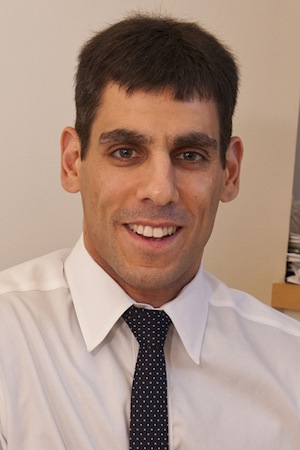 Assistant Professor of Pathology
Beth Israel Deaconess Medical Center
Pathology
330 Brookline Ave
Boston MA 02215
Tel: 617-538-5681
Email: rarnaout@bidmc.harvard.edu
Website:http://arnaoutlab.org
Lab Size: between 5 and 10
Research Summary:
My laboratory has two complementary areas of expertise: (1) systems immunology and (2) systems medicine. They have in common the use of big-data analytical methods, high-performance computation, information theory, and network/graph theory harnessed to understanding complex systems.
Systems immunology. B and T cells are important in vaccines, infections, autoimmunity, aging, and cancer. There are millions of these cells in a typical blood sample. High-throughput sequencing and big-data computational biology make it possible to investigate how this unique set of cells carries out its functions—and raise the possibility of using them as early diagnostics and biological therapeutics for a range of conditions. In our lab, we are sequencing and analyzing antibodies and T cell receptors across species and medical conditions to understand this complex system.
Systems medicine. Medicine has a genome. This genome is made up of the health data of the millions of people who interact with doctors, nurses, and others at hospitals and clinics around the world. This includes the results of diagnostic blood tests, the single highest volume medical activity, as well as procedures, diagnoses, and more. Within this genome is knowledge for better patient care and the basis for a nationwide learning health system. We are using big-data analytics and traditional techniques to reveal useful patterns, trends, and features of conventional medical care and of genomic medicine and use real-world hospital data to give structure to problems in clinical medicine that are commonly talked about but not well understood.
Publications:
Arnaout R, Buck TP, Roulette P, Sukhatme VP. Predicting the cost and pace of pharmacogenomic advances: an evidence-based study. Clin Chem. 2013 Apr;59(4):649-57. PMID: 23230323.
Lakhani KR, Boudreau KJ, Loh PR, Backstrom L, Baldwin C, Lonstein E, Lydon M, MacCormack A, Arnaout RA, Guinan EC. Prize-based contests can provide solutions to computational biology problems. Nat Biotechnol. 2013 Feb;31(2):108-11. PMID: 23392504.
Arnaout R, Lee W, Cahill P, Honan T, Sparrow T, Weiand M, Nusbaum C, Rajewsky K, Koralov SB. High-resolution description of antibody heavy-chain repertoires in humans. PLoS One. 2011;6(8):e22365. PMID: 21829618; PMCID: PMC3150326.
Buck TP, Connor IM, Horowitz GL, Arnaout RA. CallWall: tracking resident calls to improve clinical utilization of pathology laboratories. Arch Pathol Lab Med.2011 Jul;135(7):920-4. PMID: 21732784.
Tsibris AM, Korber B, Arnaout R, Russ C, Lo CC, Leitner T, Gaschen B, Theiler J, Paredes R, Su Z, Hughes MD, Gulick RM, Greaves W, Coakley E, Flexner C,Nusbaum C, Kuritzkes DR. Quantitative deep sequencing reveals dynamic HIV-1 escape and large population shifts during CCR5 antagonist therapy in vivo. PLoS One. 2009 May 25;4(5):e5683. PMID:19479085; PubMed Central PMCID: PMC2682648.